Recipes
Soft Gingerbread Cake
Fri 3 Aug 2018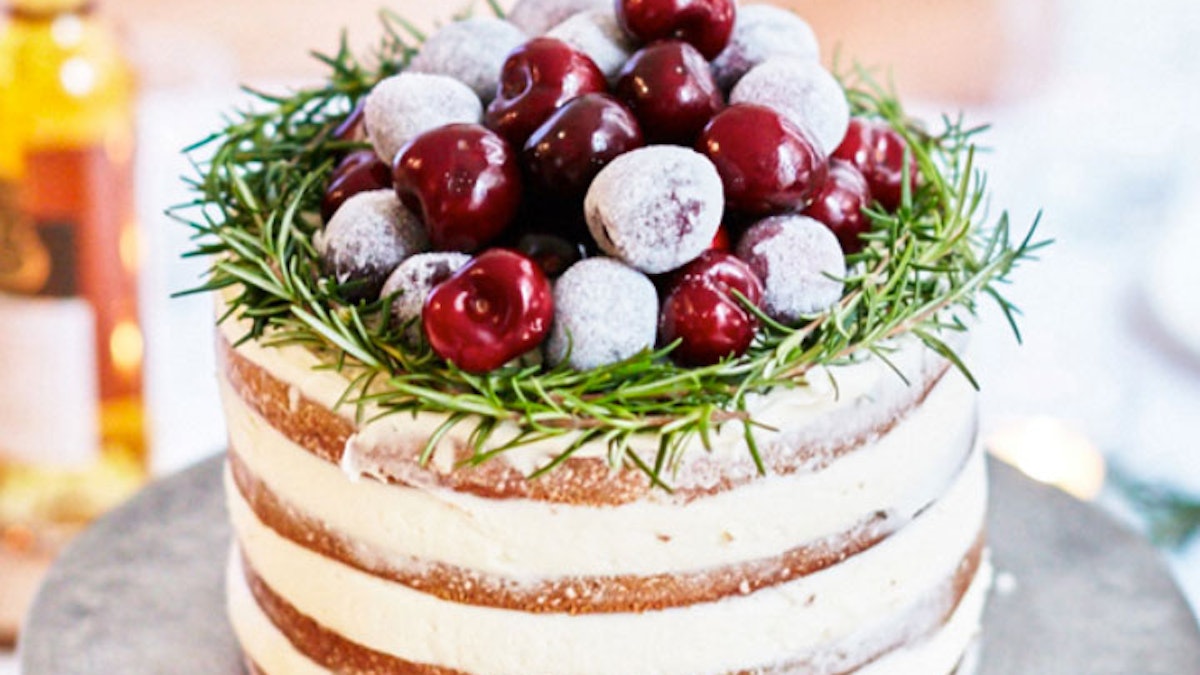 Ironchef Shellie created this gorgeous Soft Gingerbread Cake for our Christmas in July mid-winter feast. Enjoy it with a Brown Brothers Moscato or with a glass of Orange Muscat and Flora. Visit www.ironchefshellie.com for more recipes.
Ingredients
Gingerbread Spice Mix
4 teaspoons ground ginger
4 teaspoons ground cinnamon
2 teaspoons ground allspice
2 teaspoons ground cloves
2 teaspoons ground nutmeg
 
Soft Gingerbread Cake
540g plain flour
2 tsp baking powder
pinch of salt
8 tsp gingerbread spice mix
4 eggs
200g brown sugar
200ml golden syrup
250g butter
100ml thickened cream
300ml milk
a bunch of fresh rosemary, to decorate
 
Crystallised Cherries
500g fresh cherries
1 egg white
Caster sugar, for rolling
 
Cream Cheese Frosting
900g icing sugar, sifted
150g unsalted butter, softened
375g cream cheese, cold
Method
Cake:
Heat oven to 175°C (155°C fan-forced). Grease and line four 20cm baking pans. Set aside. Mix flour, baking powder, salt, 8 tsp gingerbread spice mix in a bowl. Set aside.
Beat eggs and sugar until fluffy and lighter in color, about 3-4 minutes. Add in golden syrup and beat until smooth. Melt the butter in a saucepan and add cream and milk. Add dry ingredients and butter mixture to the egg mixture in alternating additions, and fold through gently.
Divide batter between prepared cake pans and bake for about 15 to 20 minutes or until a cake tester comes out clean. Let cool in pan, then unmold onto a wire cooling rack.
Sugared cherries:
1. Dip about half the cherries in egg white and put them on a piece of kitchen paper so they're not soaking wet when rolling them in sugar.
2. Roll in sugar and leave to dry on a tray lined with baking paper for at least 30 minutes.
Cream Cheese Frosting:
1. Beat the icing sugar and butter with an electric mixer on a medium to low
speed until the mixture comes together.
2. Add in the cream cheese and beat until it is completely incorporated. Turn the mixer up to medium high speed and continue beating until the mixture is light and fluffy, at least 5 minutes.
Assembling the cake:
1. If cake layers are domed on top, level them out by cutting off the top with a serrated knife.
2. Put the first cake layer on a cake stand or plate and spread a fairly thick layer of frosting on it
using an offset spatula or butter knife.
3. Keep doing this until you've used all four cake layers. End with a layer of frosting on top of the last layer.
4. Spread a thin layer of frosting all over the cake. Decorate with rosemary, as well as fresh and crystallised cherries, immediately before the cream cheese sets. Put it in the fridge to set for a 10 to 20 minutes if needed.