News / PR
Pop the cork! Aussie Prosecco is here to stay
Wed 1 Nov 2023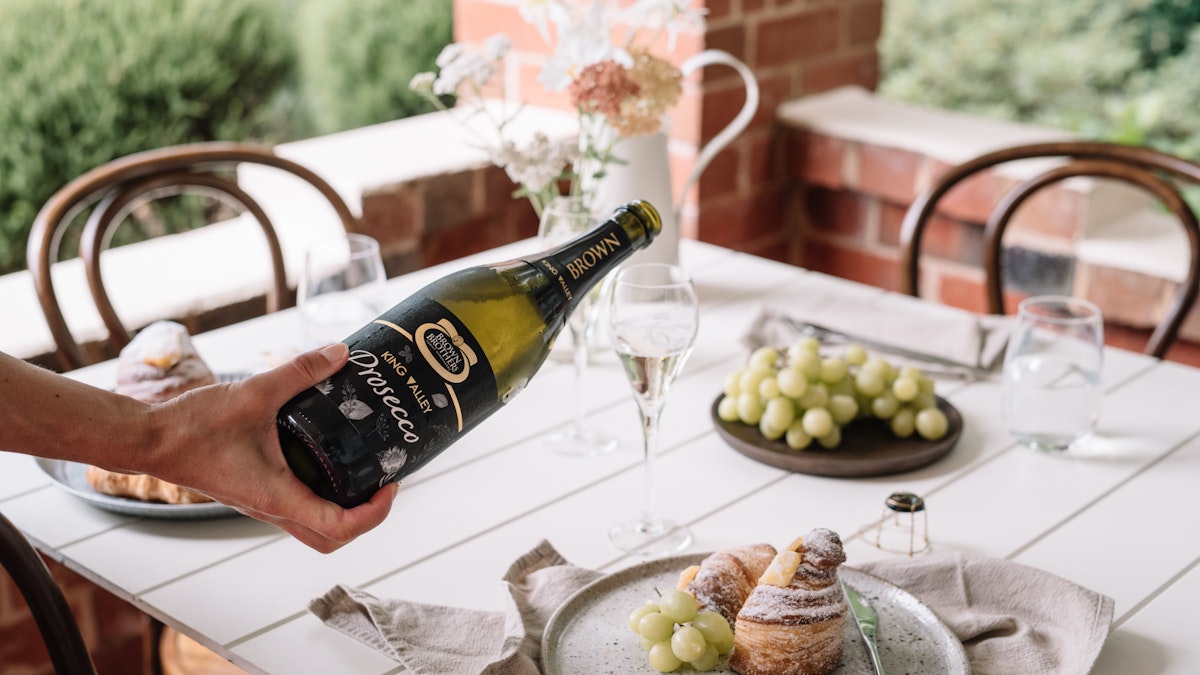 Remember our fight to save Aussie Prosecco? Today is a day to celebrate an incredible victory for the Australian wine industry, with the news that 'Prosecco' is here to stay.
Australian Prosecco producers are celebrating following the collapse of European Union (EU) trade deal talks in Osaka, which was set to restrict the exclusive use of the name 'Prosecco' in Australia. Whilst the trade talks had been in deadlock since July, Australian Trade Minister Don Farrell had hoped for an improved offer from the EU, but they remained steadfast on their terms and it could be years before talks are entered into again. This huge win is a testament to the incredible unity and collaborative efforts of our industry, with Prosecco producers from all corners of Australia joining forces to safeguard the name.
Winemaker and 4th Generation family member, Katherine Brown, has been at the forefront of the #SaveAussieProsecco campaign, along with many of our neighbouring Prosecco producers. With an industry that's worth over $205 million alone, Katherine says that this is a big win for all of the Australian wine industry, which stems far beyond the Prosecco variety.
"The fight to keep the Prosecco name has seen producers from across Australia come together, it's a true testament to the collaboration of our wine industry."
"It means so much for producers and by continuing our pursuit to keep the usage of the Prosecco name in Australia, future winemaking generations will have the freedom to use all grape varieties and can continue to innovate or work with new varieties."
"This is a good day to know that our voice has been heard. We say that you don't need a celebration to open a bottle of Prosecco, but today is a day when it is time to celebrate, with Prosecco of course."
Why was the name Prosecco being fought over?
Prosecco is a white grape variety originating from the Veneto region of Northeast Italy, where it has been used to produce sparkling wine under the Prosecco name. In the late 1990's, the Prosecco grapevine was first sold to Australian wine producers, pioneered in the King Valley by Otto Dal Zotto.
In 2009, the Italian government decided they would create a region called 'Prosecco'. They changed the name of the Prosecco grape variety to Glera within the European Union (EU) and registered Prosecco as a Geographical Indication (GI) in the EU. The EU has since been fighting for over a decade to claim Prosecco as a GI in global markets, including Australia.
Had it been successful, the proposal would have restricted the use of Prosecco in Australia to wines that had been produced in certain regions of Italy, effectively preventing Australian producers from using the name to market their own sparkling wines made from the same grape variety.
What does this mean now?
It means Aussie wine producers, like us, will continue to use the name 'Prosecco' indefinitely. It means the future is brighter than ever for Australian wine. And most importantly, it means nothing changes for you! You'll continue to find Prosecco in the fridge – ready to be popped, poured & enjoyed year-round.