News / PR
Calling all wine lovers, Australian Prosecco needs your help!
Fri 14 Apr 2023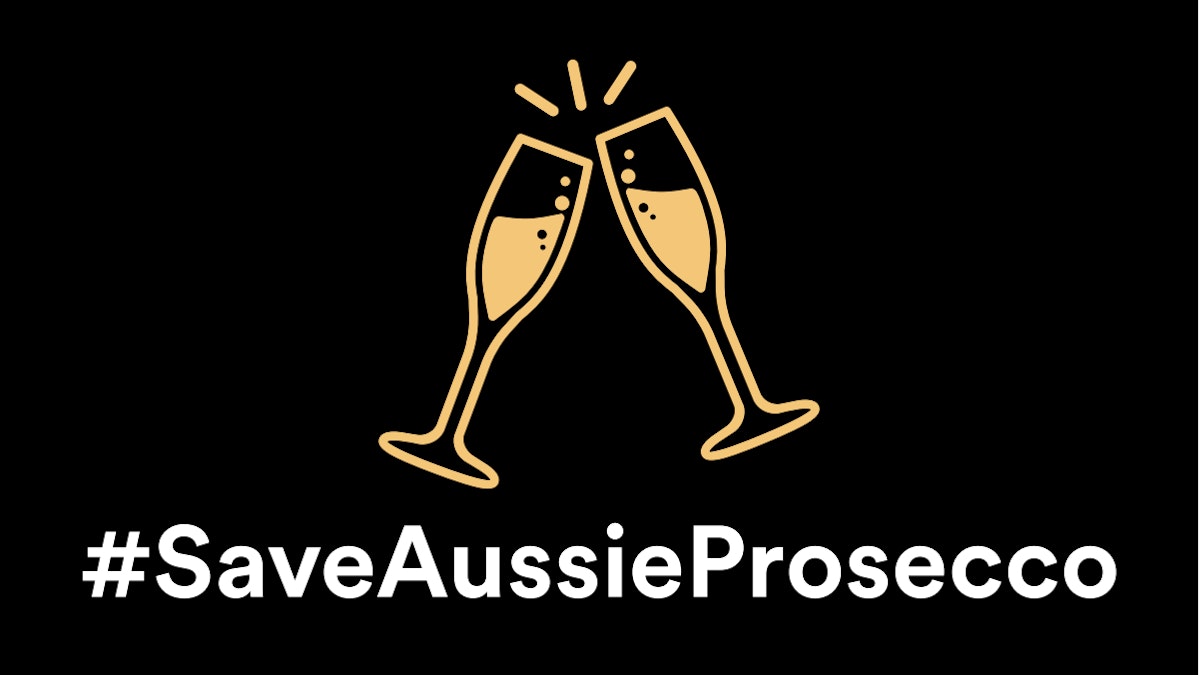 Prosecco has been in the spotlight lately; not just for being a wine you know and love, but because of the ongoing debate between the Australian Government and the European Union (EU), regarding the use of the name Prosecco.
Prosecco is a white grape variety originating from the Veneto region of Northeast Italy, where it has been used to produce sparkling wine under the Prosecco name. In the late 1990's, the Prosecco grapevine was first sold to Australian wine producers, pioneered in the King Valley by Otto Dal Zotto.
In 2009, the Italian government decided they would create a region called 'Prosecco'. They changed the name of the Prosecco grape variety to Glera within the European Union (EU) and registered Prosecco as a Geographical Indication (GI) in the EU. The EU has since been fighting for over a decade to claim Prosecco as a GI in global markets, including Australia.
The proposal to use Prosecco as a GI in Australia would restrict the use of this name to wines only produced in certain regions of Italy, effectively preventing Australian producers from using the name to market their own sparkling wines made from the same grape variety.
The issue we, along with many neighbouring producers in Australia and around the world are facing is that we have been investing in Prosecco grapevines long before the Italians made that decision.
"Having to go back to scratch and promote something unknown and unheard of would have a substantial impact both on tourism in our region, the King Valley, but also on jobs and our ability to support the local community," says Brown Brothers CEO Dean Carroll.
What does this mean?
Australia is one of the fastest-growing sparkling wine markets in the world, with the total value of Australian Prosecco production estimated at around $205 million alone. Winemaker and 4th generation family member Katherine Brown says that restricting the use of Prosecco as a GI would have a significant impact on the Australian wine industry:
"It would be a huge blow to Australian winemakers and producing regions, such as The King Valley, who have been growing and investing in Prosecco grapes and making sparkling wines from them for many years," says Katherine.
"Around 95% of Australia's Prosecco is currently sold domestically. If Australian wine producers aren't able to use the name "Prosecco" on their bottles, it would also be confusing for consumers, who understand the Prosecco grape variety and the quality it produces in Australia."
"It's important that we look at grape varieties as the primary means of identifying and marketing Australian wines. This would not only support the Australian wine industry but also ensure that consumers have access to a diverse range of high-quality wines from around the world."
Now's the time to #SaveAussieProsecco
The EU is currently seeking protection of 50 new and updated wine GIs (including Prosecco) and is negotiating with the Australian Government to have these recognized within the Australia-EU Wine Agreement.
Winemakers, politicians, and experts have all weighed in on the debate, including our 4th Generation family member & winemaker Katherine Brown, who recently spoke with Andrew Hansen from ABC Radio Melbourne, and Jacqui Felgate and Jimmy Bartel for 3AW Melbourne.
We know how much you love your Prosecco, and this debate is one that hits close to home, so we're joining forces with our fellow Australian wine producers, along with you – our beloved wine drinkers – to make sure the government hears our objection loud and clear.
You can show your support and help #SaveAussieProsecco by signing the petition.
The Australian Government has opened a public objections process to give interested stakeholders the opportunity to have their say on the proposed new and updated European Union (EU) wine geographical indications (GIs). Aussies can lodge an objection via the following link (before 12pm on April 21, 2023)
You can lodge an objection HERE.