News / PR
What is Prosecco? All you need to know about our King Valley icon.
Wed 21 June 2023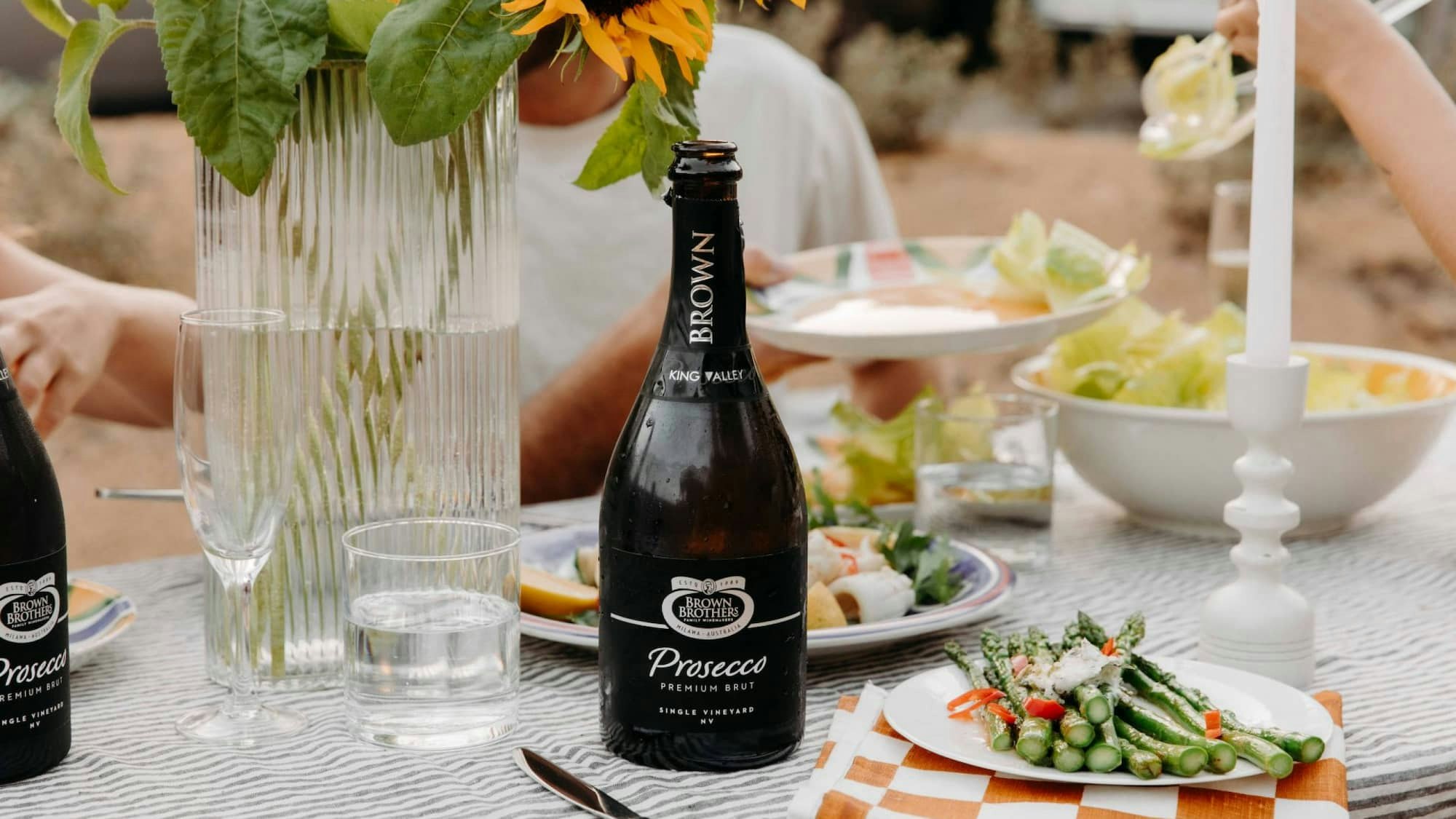 Boasting fresh floral flavours, bright acidity, and plenty of bubbles, Prosecco is a joy to drink no matter the time of year.
Sparkling wine is all about celebrating, and with Prosecco comes no pretense other than to be popped, poured, and enjoyed year-round. A style of wine that's traditionally vibrant, refreshing, zesty, and dry, Prosecco boasts a characteristic 'fizz' that's slightly creamy with just a hint of fruit; perfect for lazy summer days and dinner tables shared with friends.
So, what is Prosecco and how is it made?
Prosecco is a white grape variety used to make Sparkling wine, originating from the Veneto region of Northeast Italy. Typically light and refreshing, Prosecco is characterised by a gentle effervescence and fresh, fruity flavours of green apples, citrus, and pears. It can be made in both a dry or sweeter style and is enjoyed as an aperitif, a celebratory drink, or a versatile food pairing for breakfast, lunch, or dinner!
While it's often compared to Champagne, Prosecco is made with a different set of grapes (Prosecco grapes, also called "Glera") and a different winemaking method. In the Charmat Method (also known as 'Tank' Method) the grapes are harvested and pressed, and the juice is fermented in stainless steel tanks to produce a still wine. The wine is then transferred to pressurized tanks, where a second fermentation occurs, creating bubbles. The CO2 released from the fermentation causes the tank to pressurize before the wine is then filtered and bottled without ageing.
Prosecco vs Champagne
Believe it or not, Champagne comes from Champagne! Located in the northeast of France, this wine region is the only place in the world where sparkling wine can be called Champagne. Here, the vineyards are separated into different villages, the name of which will appear on the label. The best producing areas are classified first as 'Premier Cru' and then 'Grand Cru'. Made from blending Pinot Noir, Meunier, and Chardonnay grapes, Champagne is made using the Méthode Traditionelle, a process that actually originated in the Champagne region, which is notable for using a secondary fermentation within the bottle itself to create the wine's carbonation.
Elsewhere, like in Australia, these wines are simply called Sparkling – or a Cuvée – which refers to a non-vintage 'blend' of grapes from multiple harvests.
Prosecco, on the other hand, comes from the Glera grape, which has been grown in northern Italy for hundreds of years. Like Champagne, Prosecco goes through a second fermentation to carbonate the wine, but this happens in a tank, rather than individual bottles.
It's because of this difference in production that Prosecco is also significantly more affordable than Champagne (thus allowing for more regular consumption!) A good bottle of Champagne is typically more expensive than Prosecco due to the method in which it's made: Méthode Traditionelle is much more labour intensive, with bottles having to be consistently rotated by hand throughout the process, whereas the tank method is essentially a hands-off process until bottling takes place.
What does Prosecco taste like?
Prosecco is light and dry on the palate, with delicate bubbles that make it a deliciously versatile drink to be enjoyed on its own, or as the base of a refreshing cocktail. It offers fruity, flowery aromas which makes it the perfect accompaniment to the summer season, and an ideal aperitif to enjoy on the back deck, around the dinner table, or before a night out with friends.
King Valley Provenance and the Popularity of Prosecco in Australia
Culturally and climatically, Australia shares many similarities with Italy: both countries enjoy socialising and relaxing with friends and family, with food and drink the centerpiece of these occasions. Prosecco was pioneered in Australia by the winemaking families of the King Valley, a wine and food-producing region in northeast Victoria. With a climate and soil similar to that of the Veneto region of Italy, the King Valley has quickly amassed a reputation for being a premium sparkling wine-producing region due to its unique combination of climate, soil, and grape varieties. The region also benefits from its high altitude, which provides cooler temperatures and longer ripening periods. These factors contribute to the development of complex, nuanced flavours in the grapes, which are key ingredients in the production of premium sparkling wines
.In recent years Prosecco has become more popular than ever, with tourism to the King Valley growing in parallel. Fresh and uncomplicated, Prosecco is called upon for moments big or small. It is equally suited to poached eggs and salmon blinis at brunch, as it is to charcuterie or seafood snacks before dinner. Soaring in popularity in recent years, Prosecco is now one of the most popular types of sparkling wine in the world as well as a $200 million-dollar business in Australia. Made in a variety of styles to suit any drinking occasion, you can explore our full collection of King Valley Prosecco, Prosecco Rosé, and Prosecco Spritz, available in full bottles, minis and cans.