Recipes
Cook: Adam Liaw's Green Curry with Chicken and Prawn Meatballs
Fri 1 Feb 2019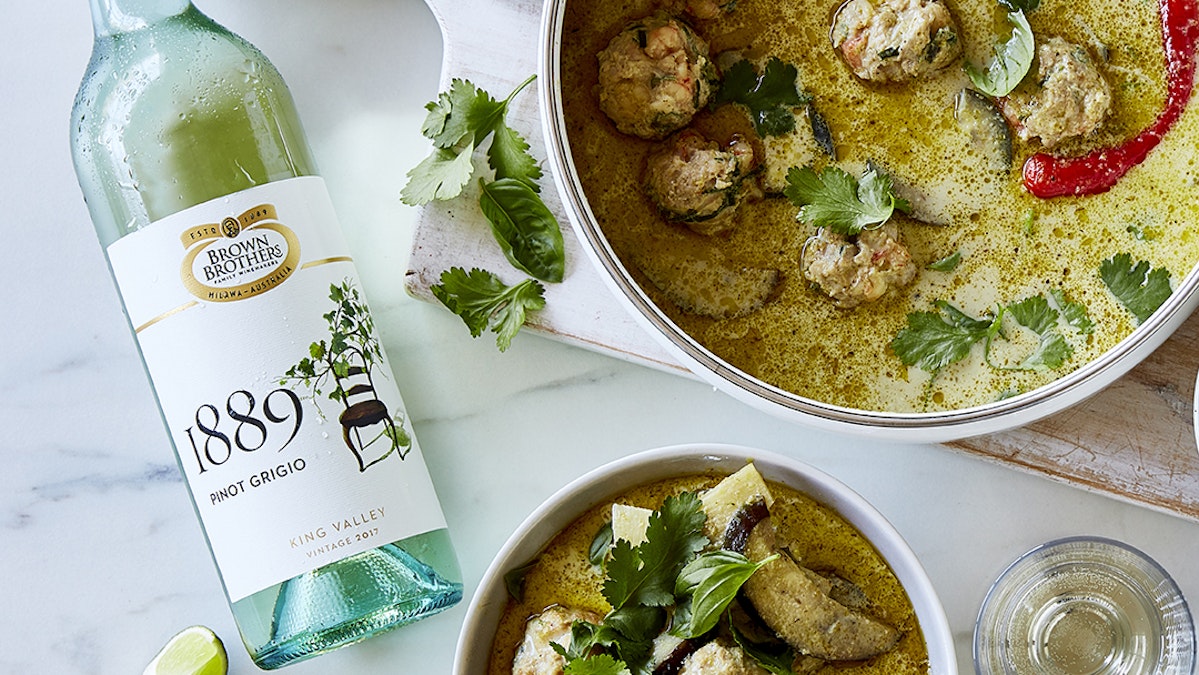 Green curry with chicken and prawn meatballs by Adam Liaw
This was created exclusively for Brown Brothers to match the 1889 Pinot Grigio.
Serves 6
500g chicken thigh fillets, or chicken mince
300g raw prawn meat
2 spring onions, sliced
½ tsp salt
1 tbsp vegetable oil
2 tbsp green curry paste, or adjust to your taste
400ml coconut milk
½ cup shredded bamboo shoots, drained
2 kaffir lime leaves, plus extra shredded to garnish
1 small eggplant, sliced (or 1 cup mixed Thai eggplants)
1 zucchini, sliced
1 large red chilli, thickly sliced
1 large green chilli, thickly sliced
1 tbsp palm sugar
1 tbsp fish sauce
½ cup picked coriander leaves (loosely packed)
½ cup picked thai basil leaves (loosely packed)
lime wedges, to serve
Chop the chicken, prawn meat, spring onion and salt together to create a coarse paste. With wet hands form the mixture into golf ball-sized balls and chill in the fridge until ready to cook. Bring a large saucepan of water to a simmer and add the balls in batches, poaching for about 5 minutes until the balls float the the surface. Remove the balls and drain, reserving the poaching liquid.
Heat a wok or large saucepan over medium heat. Add the oil, then add about 2 tbsp of the green curry paste (you may need to use less or more depending on your paste) and stir-fry for around 1 minute until fragrant. Add the coconut milk, and about 2 cups of the meatball poaching liquid. Bring to a simmer, then add the eggplant, zucchini, chillies, bamboo shoots, whole lime leaves, and meatballs. Bring to a simmer and add the palm sugar and fish sauce to season. Simmer for 6-8 minutes until the vegetables are tender. Serve with the basil and coriander leaves and a few shredded lime leaves.