Recipes
Bake: Katherine Sabbath's Persian Love Cake - Brown Brothers
Fri 30 Aug 2019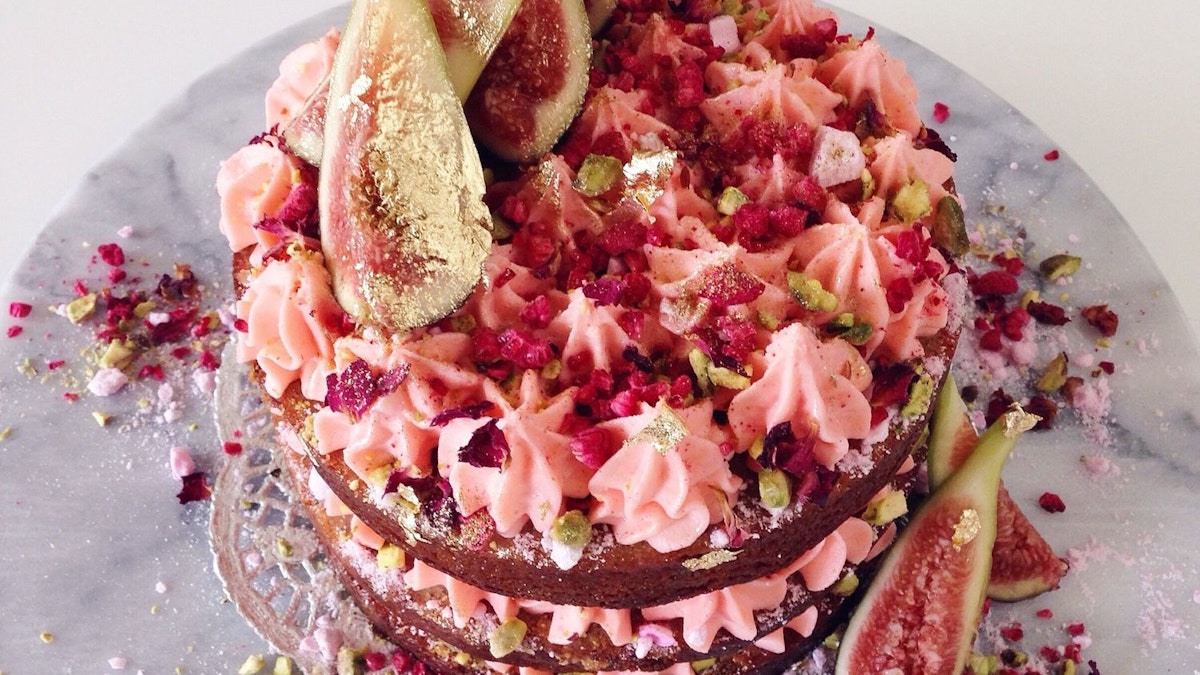 If anyone knows how to create delicious, flamboyant and beautiful cakes, it's Katherine Sabbath.
Filled with classic aromatic Persian flavours, it's hard to resist being swept away by the incredible Persian Love Cake. Spiced with warming nutmeg, cinnamon and cardamom, the delicate flavour of rose water and tanginess of the rose cream cheese filling is perfectly complemented by crushed pistachios and meringue, while the layers of spiced caramel mud cake are deliciously sticky. Adorned with sweet, plump figs and striking rose petals, this cake is sure to win hearts!
200g unsalted butter, cubed
200g good quality white chocolate, chopped
150g (3/4 cup, firmly packed) dark brown sugar
250 mls (1 cup) hot water
2 tablespoons golden syrup
2 teaspoons vanilla extract
2 large, free-range eggs, at room temperature
150g (1 cup) self-raising flour
180g (1½ cups) almond meal
2 teaspoons cinnamon
1 teaspoon ground ginger
1 teaspoon ground cardamom
Rosewater cream cheese filling:
500 grams cream cheese, softened
250 grams mascarpone, softened
100 grams butter, softened
150 mls thickened cream, whipped
125 grams icing sugar (1 cup), sifted
½ teaspoon rose water
3-4 drops pink food colouring or natural colouring extract
Assembly:
1 cup crushed pistachios
¼ cup food-grade dried rose petals
¼ cup crushed pink meringue
3 fresh figs, sliced (or you could leave them whole, if you prefer)
Pre-heat your oven to 160°C, fan-forced. Grease a round and deep 17cm spring-form cake pan with melted butter or spray with cooking oil, then line base and side with non-stick baking paper.
Place butter, chocolate, sugar, water, golden syrup and vanilla in a heavy-based saucepan. Stir ingredients over medium-low heat with a rubber spatula for 5 mins or until chocolate melts completely and your mixture is smooth. Set aside for at least 20 mins to cool.
Next, add the eggs, 1 at a time and beat in well by using a hand-held electric mixer. Sift flour and spices over your white chocolate mixture and mix in until well combined. Next, fold in almond meal until well combined.
Pour cake mixture into pan and bake in pre-heated oven for 50-60 mins or until a wooden skewer comes out almost clean. Stand cake in pan for at least 2 hours before turning onto a wire rack to cool (TIP: You can speed up the process by resting your cake in the refrigerator, covered with a clean tea towel for an hour or so). Once completely cooled, use a long thin knife to carefully slice cake into 3 even layers. Cover cake layers and set aside in fridge until cake assembly.
Rosewater cream cheese filling:
Use an electric mixer to whip together cream cheese, mascarpone, butter, icing sugar, rose water and food colouring until pale and fluffy.
Gently fold in whipped cream until combined and set filling aside until needed. TIP: If your filling appears to be too soft to pipe neatly into your cake layers, leave to rest in the fridge for 15 – 20 minutes in order to firm up the mixture to a more workable consistency.
Assembly:
Working on a cake turntable (it makes life easier!), secure the bottom layer of your spiced caramel and almond cake onto an 8 inch or 9 inch cake board/plate using a smear of rosewater cream cheese filling. Next, fill a pastry bag lined with a star-tipped nozzle with rosewater cream cheese filling. Starting from the outside edge, pipe filling onto cake layer until completely covered.
In between filling and carefully stacking each layer, be sure to give a generous sprinkling of crushed pistachios and meringue between each to provide a delicious hidden crunch.
Once the layers are assembled, adorn the top of cake with remaining crushed pistachios, crushed meringue, a sprinkling of freeze-dried raspberries, a scattering of rose petals and slices of fresh figs. Add a decadent lustre to your cake and fig slices by decorating with gold leaf and gold dust.
Best served at room temperature and shared with your most favourite people.