News / PR
A Beginner's Guide to Chilled Red Wine
Tue 28 Mar 2023
We all know red wine should be drunk at room temperature. Right? Not quite.
Most red wines are actually designed to be enjoyed at "cellar temperature". This might sound like a trivial difference, but with cellar temperature considered to be 16 or 17 degrees, it's considerably cooler than your kitchen bench. This means even heavier varietals such as Shiraz, Merlot and Cabernet benefit from a quick cool-down in the fridge before serving.
"Red wine at room temperature can taste a little bit broad," says Brown Brothers' Wine Ambassador Andrew Harris. "It's not quite as tight and structured as it should be."
Dry reds shouldn't be chilled too long, however; their natural tannins and oak characters are amplified by cold, which disrupts the wine's balance. "The wine will be a lot bitier, and more tannic than it should be," says Harris. "So serving at the right temperature ensures it tastes the way it should."
Which red wines can you serve chilled?
The best wines to serve chilled are those that are younger and lighter like Gamay or Tempranillo, alongside fruiter, sweeter reds like Cienna, Dolcetto, and Tarrango. These wines are naturally lower in tannins and often haven't seen oak, so the bright fruit flavours are able to withstand the cold without being overpowered.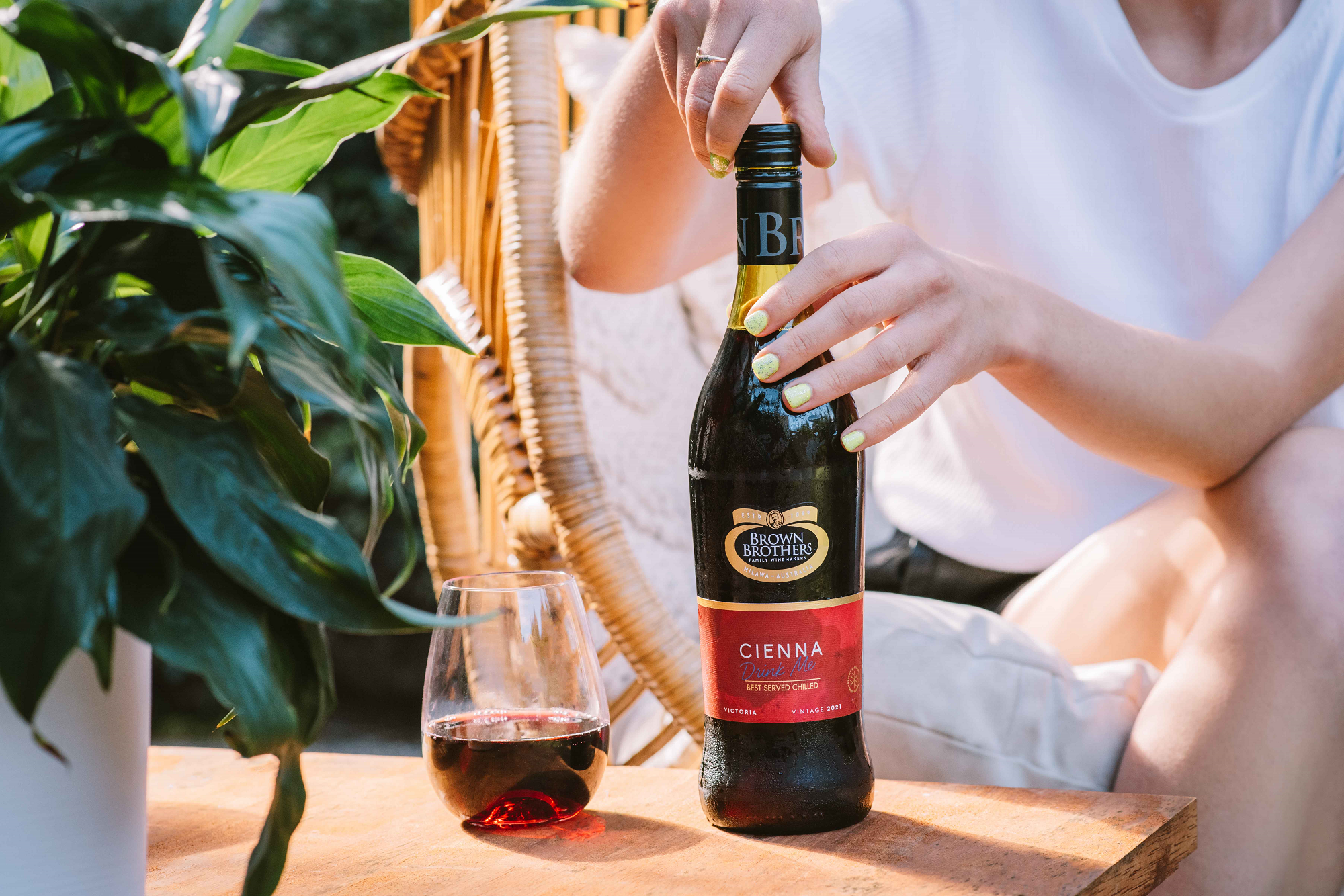 Read More about Tarrango here.
Armed with the knowledge that red wine makes for a fine drink of choice no matter the season, here are some of the best ways to enjoy a chilled red.
With spicy food
A crisp Riesling or sweet Moscato is often the wine of choice for spicy food, but a chilled red can be even better. "The sweetness of Cienna or a vibrant Tarrango stands up and helps diminish the fieriness of the pepper and chilli", says Harris. The richness of red fruit in these wines also provides the perfect balance to the sweeter ingredients typically found in Asian dishes, such as roast pork with plum sauce or green papaya salad.
With warm weather
When the temperature rises, chilled red wines can be a welcome relief from heavier, more tannic wines. While probably not the best way to enjoy that vintage Cabernet Sauvignon you've been lovingly ageing, choosing a lighter, chilled red wine can be a great alternative to dry whites and rosé when the weather warms up.
With a backyard BBQ
Red wine and red meat might be natural partners, but an icy beer is still the standard drink of choice at the classic Australian barbeque. For your next cook-up try a chilled bottle of Cienna – like beer, Cienna makes a casual complement to lamb, sausages, grilled chicken and charry seafood, without overpowering. It's also an Australian grape, making it the perfect fit.
With (most!) desserts
Similar to how a sweet wine complements a sweet dish, a chilled, fruity red can be a fine accompaniment to that final course. A classic pav, Eton Mess or decadent pudding loaded with berry coulis is an excellent choice. Try a Dolcetto & Syrah with simple berries and cream, or recreate Katherine Sabbath's Cienna, Chocolate & Raspberry Cream Fudge Cake.
With ice, shaken or stirred. 
Sangria is an obvious one – it calls for the classic combination of chilled red wine, fruit and spices. But how about a chilled red wine Spritzer? A bloody 'Cienna Sour'? 
Anything's a cocktail if named accordingly!