News / PR
Zero Alcohol, Full Flavour. Discover our Latest Range of Alcohol-free Wine
Fri 14 Oct 2022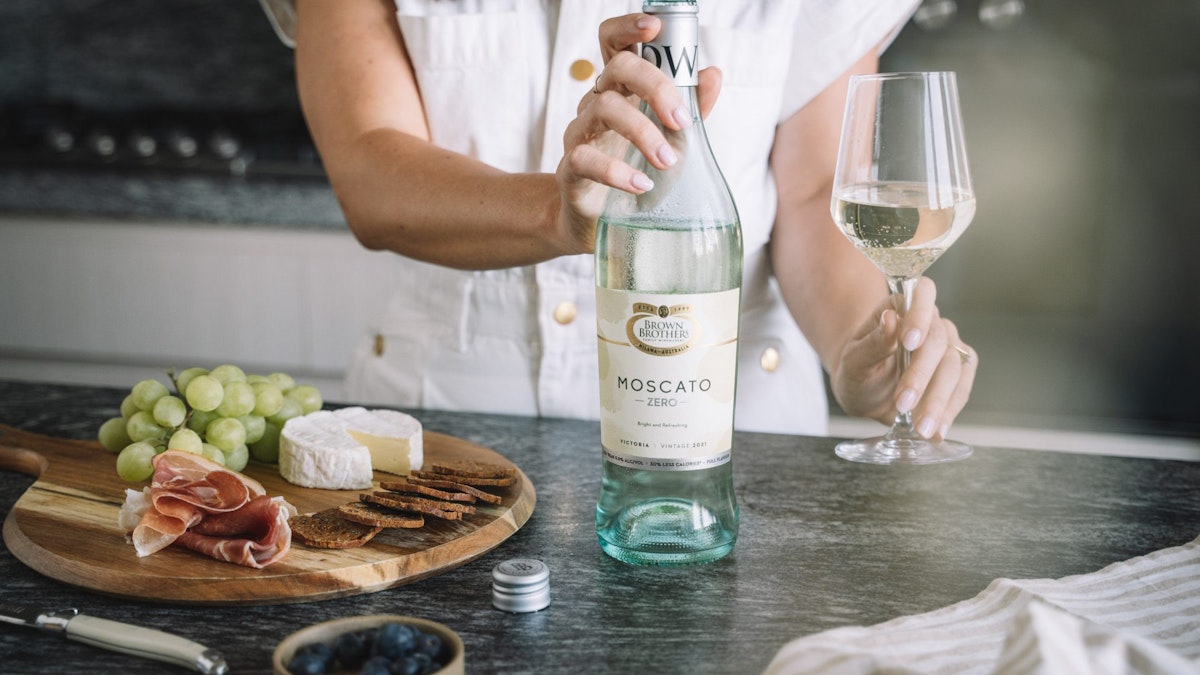 Light, bright and free from alcohol, discover Brown Brothers' new Zero range.
With the sober-curious sub-culture growing enormously in the last few years, the rise of non-alcoholic beverages — from craft beer to spirits and wine — has, too, gathered momentum; offering a more mindful yet still flavoursome alternative to their alcoholic counterparts.
Why Zero Alcohol?
We noticed more Australians are seeking ways to moderate their alcohol intake, but don't believe flavour should be sacrificed when it comes to enjoying a glass of wine. Using spinning-cone technology to remove the alcohol, our new Zero range of wine continues to honour the traditional craft of our iconic Moscato and Prosecco, creating delicious and drinkable wines that will satisfy your tastebuds and rebuff those 'why aren't you drinking' remarks.
Now, this might sound strange coming from a winery. We love the stuff, and we're bloody good at making it — having done so for well over 130 years. But we love people more, and as Ross Brown once said, "We are a wine company with tradition, but we're not a traditional wine company."
Our Range of Zero Alcohol Prosecco & Australia's #1 White Wine
Our makers have been working hard to bring this collection of vibrant and refreshing alcohol-free wines to life, so that you can still enjoy the taste and feeling you get from your favourite tipple, without the headache or over-consumption. If you're new to the sober world, or just looking for your next alcohol-free sip, add these wines to your cart:
Refreshing and dry with a satisfying citrus tang, Brown Brothers Prosecco Ultra Low celebrates the beautiful, nuanced flavours of traditional sparkling wines — without the alcohol. Featuring notes of crisp green apple and delicious pear, serve chilled alongside fresh seafood or salted popcorn.
Brown Brothers Prosecco Rosé Zero
We're redefining Rosé moments with this bubbly, bright, and beautifully pink Prosecco — made with zero alcohol and all the flavour. Blush in colour with delicate notes of strawberry, crisp apple and citrus, pour alongside spicy Bahn Mi or roasted spring veg.
Mildly fizzy with lifted aromas of citrus, sherbet and freshly cut grapes, Brown Brothers Moscato Zero is the newest addition to our alcohol-free range. A nod to the delicate fruity flavours of Australia's #1 white wine, enjoy chilled alongside savoury snacks, cheese, or dessert.
Offering the full fruity flavour of your favourite Cienna, Brown Brothers Cienna Zero is a refreshing red wine that's light, bright and bursting with notes of sweet summer berries. This easy-drinking red is made with less than 0.5% alcohol, is best enjoyed chilled, all year round.
Shop Brown Brothers Prosecco Zero and Moscato Zero in the grocery aisle at your local Woolworths.