News / PR
Get to know Cienna: vibrant, red and best served chilled
Tue 28 Mar 2023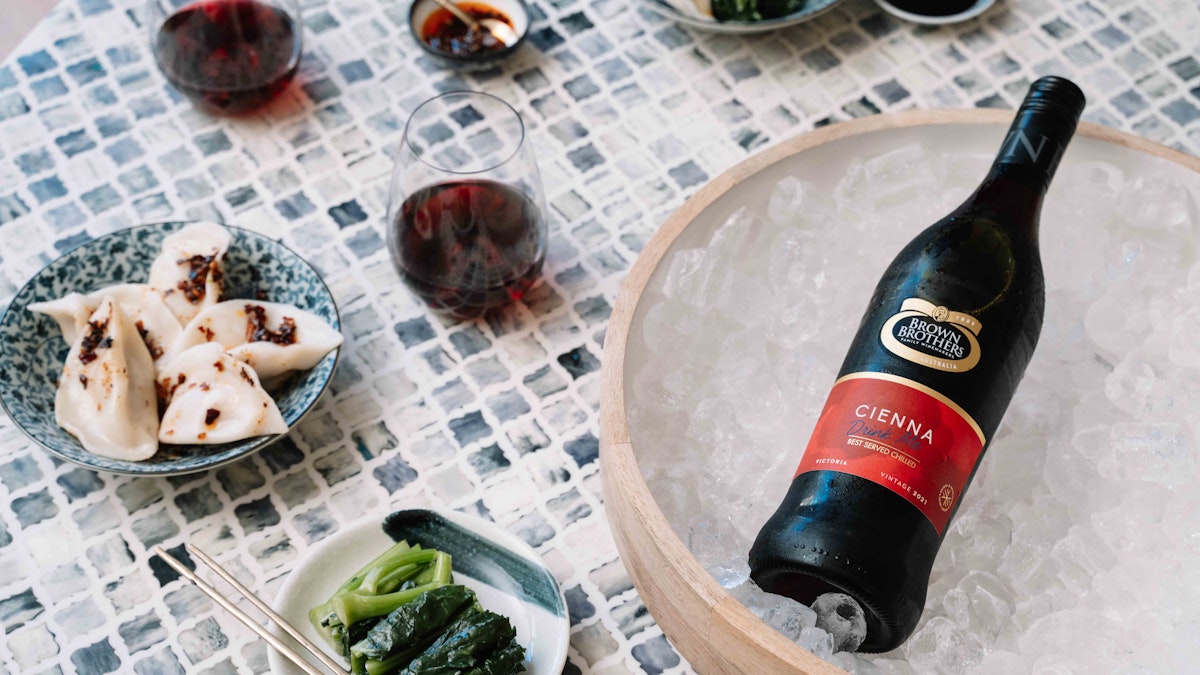 A varietal unique to Brown Brothers, we've long been synonymous with this vibrant, refreshing red wine that's versatile enough to pair with everything from spicy Chinese hot pots to mouth-watering meringue. Think you know Cienna? Think again.
Cienna is a delicious and unique wine that is gaining popularity among wine enthusiasts. Developed in Australia in the late 1970s, Cienna is a hybrid grape variety that is a cross between the Spanish grape Sumoll and the red wine grape Cabernet Sauvignon. It produces a fruity and sweet red wine that is best served chilled, making it a perfect summer wine.
One of the reasons Cienna is best served chilled is because it has a relatively high sugar content. When served chilled, the wine's sweetness is balanced by its acidity and freshness, making it a refreshing and easy-to-drink wine. Chilling the wine also helps to enhance its fruity flavours and floral notes, giving it a crisp finish that is perfect for hot summer days. A versatile food wine, it's the sweetness of Cienna that makes it an ideal match for spicy dishes, as it can help to offset the heat. It also pairs well with succulent grilled meats, cheese, chocolate and desserts.
The next time you're tasked with baking something special, try your hand at Katherine Sabbath's Cienna, Chocolate & Raspberry Cream Fudge Cake!
12 Things You Might Not Know About Cienna…
Cienna was originally created by the CSIRO in 1972, with the aim of developing a new wine to better suit the warming Australian climate.
It is a wine unique to Brown Brothers; a brilliant blend of the Spanish grape Sumoll, and the red wine grape Cabernet Sauvignon.
Cienna is a red grape variety; if you think you've heard the name Cienna before, chances are you have! This wine shares the name of the colour sienna, due to its striking and deep red hue.
The first bottle of Cienna was released at the start of this millennium, in the year 2000.
Cienna is relatively disease-resistant, which makes it easier to grow than some other grape varieties.
The grape is typically harvested early to retain its acidity and freshness.
The grape is known for its high sugar content, which makes it ideal for producing dessert wines.
Cienna is inherently easy-drinking, light and refreshing. It's best known for its vibrant ruby red colour, and aromas of cherry, blackcurrant, and plum.
The wine has a relatively low tannin content, which makes it smoother and easier to drink than some other red wines. Its finish is also slightly fizzy!
Cienna is best served chilled and pairs well with a range of plates, including bbq meats, spicy dishes, and cheese.
In summer it's ideal for making cocktails or a refreshingly chilled Sangria, and in winter it's perfect for a delicious warming 'Gluhwein' or mulled wine.
Cienna is also a terrific base ingredient for baked goodies such as poached pear puddings, brownies, and rich chocolate cake. We suggest pinching mum's favourite recipe and getting creative in the kitchen!